I BELIEVE it's important to know who your photographer is as a person because they are seeing you through their heart, not just their camera lens.
I am a portrait photographer. It's not my job, it's part of who I am and has been since I got my first camera at the age of eight!
I'm a woman struggling to find balance between work, family and health. Living more in the moment is a daily goal.  Read about it here!
I'm a mom to three spirited, independent, kind hearted teenagers, who give me a run for my money but are the best things that ever happened to me!
I'm a wife to an amazing man who loves me for ME, supports my dreams, makes me laugh every day and loves to cook!
I'm a daughter to a mother who has been my biggest cheerleader my whole life and recently passed away after a long battle with Alzheimer's disease. She lived with us for eleven years until she moved to a wonderful nursing home where she was well cared for at the end of her life.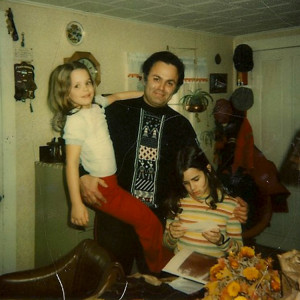 I'm a sentimental mom and believe that our strongest memories of childhood come from our pictures!
My parents were divorced and I treasure the few images I have with my dad. Note: I never thought I was too big for him to hold me. Here he is visiting us in Vermont at our grandparent's house. That's my big sister Shaleen.
I wish I had more pictures from my childhood, ESPECIALLY ones with my parents and pets. Here is one with my first cat Scamper.
I'm passionate about people connecting and view my portrait sessions as one way to help them do that!
I've been thanked many times by clients for being so patient with their children. I don't expect children to "behave" at sessions! I like them to have fun and be themselves, even if that means being cranky. Some of my favorite shots of my own kids are what I call "personality" shots. I even have big canvases in my home of some of them!
I'm very self conscious about my weight (as it has been a lifetime struggle for me) so I'm always looking out for mom during the photo sessions to make sure she is in photographed in the most flattering way!
I believe that nobody is perfect and that we should be kind to others as we are all fighting our own battles.
I look for the silver lining in every cloud and feel that everything happens for a reason and there are no coincidences!
I'm honest and giving to a fault. You can trust me. 🙂

I love animals! We have FOUR dogs and FIVE cats and a horse! All of them are rescue animals. We also foster kittens and puppies regularly! So fun!
I'm a yoga pants, tank top, sweat shirt and sneaker wearing girl with my hair up most of the time. I pretty much only wear my hear down after I get it done (like in my selfie on this page).
I am fascinated by people and love to connect with them, especially other moms!
I'm really proud to be a Certified Professional Photographer since 2011. I earned this certification through the Professional Photographers of America by passing a challenging technical test and portfolio review.
I feel so blessed when a mom chooses me as their photographer. It's such an intimate experience to have someone capture the love you feel for your family.
If you feel like I'm a fit for you and your family please contact me. I can't wait to meet you!
BOOK EARLY! My availability is limited!
Contact: andrea@momentsbyandrea.com
Photo Credit (me with the kids in peach/grey)t: Maria-Alexa Photographer
To read what has been written about me in the press and to see what I'm up to in the COMMUNITY, click HERE!
Let's connect! Reach out to me and follow me on Facebook. Click here to view my Facebook page.
P.S. I understand YOU mom! Life is not like a holiday card picture or Facebook profile page. Parenting is hard and none of us are perfect.
Here is one of my favorite holiday card images (as we included many of our animals) and the behind the scenes shots too. It's not easy (being mom and photographer) but the end product (and the outtakes) are so worth it!
Save
Save
Save